Home
About the Rhino
Photo Album
Statistics
Welcome to the official Rhino Invitational Golf Tournament Website!!

Rhino XXXVI is planned for Saturday, August 8, 2020 with tee times starting at 11 a.m. at Herndon Centennial Golf Course. Please check back here in spring 2020 for more details about Rhino 2020!

Thanks to everyone who participated in the 35th Annual Rhino Invitational Golf Tournament or sent good wishes from near or far. We had amazing weather (especially for DC in August), and 51 people ultimately teed it up. This was a special year for the Rhino, not only because it was a milestone number but also because many of us are still celebrating one of the greatest sports stories ever: UVA's incredible, redemptive run to the NCAA championship in basketball. No one would have enjoyed that more than our dear, departed Rhino, so we created shirts (and golf towels) to commemorate both things at the same time.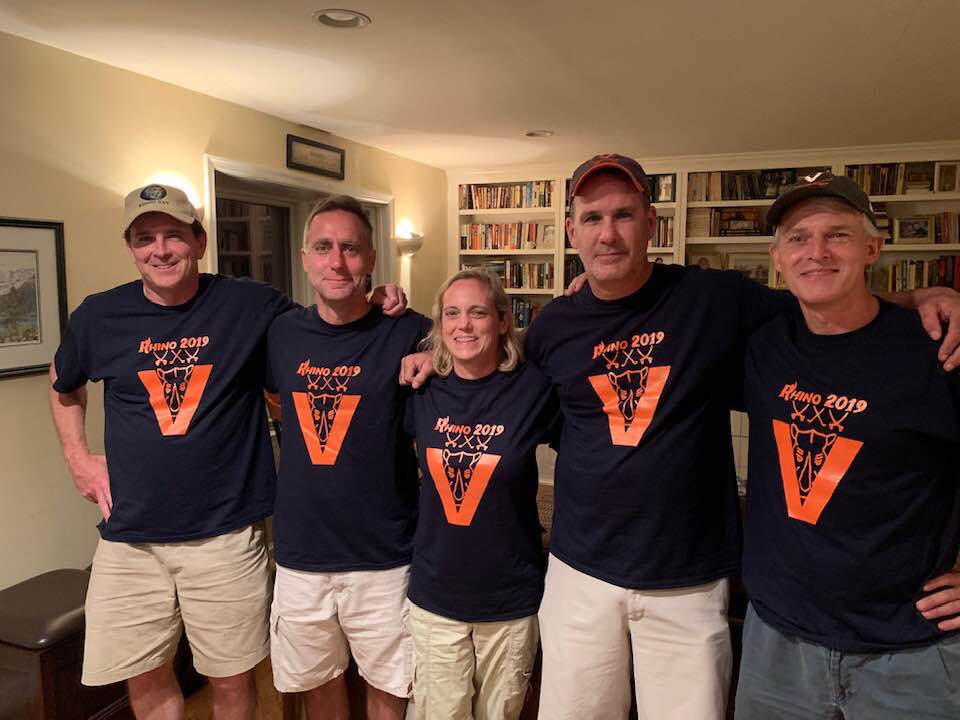 The "Big-V" shirt has long been a staple of UVA gear, and the crossed sabers and golf clubs above the V can be read as the XXX part of 35, with the V finishing off the equation. The Rhino peeking out from behind the V, and Matt's iconic statement (on the back) that "the team that wins has the most fun," all speak for themselves. Special thanks to Jim Maloney and his son Connor for their assistance in the design of the shirts, which I hope everyone (even the Maryland and VT guys) will enjoy wearing proudly for many years to come.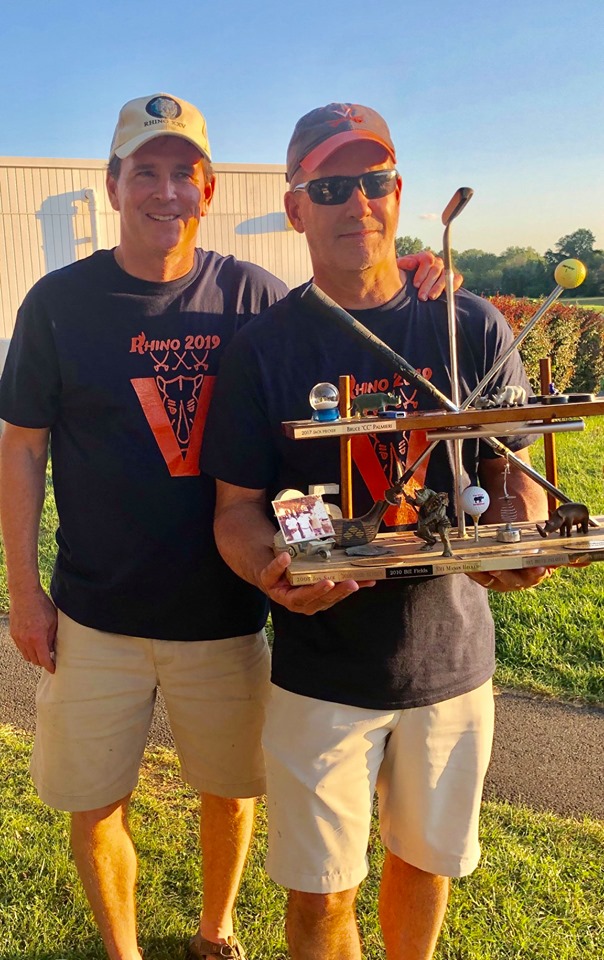 Adding to the magic of this year in sports, we also finally had a Virginia guy (or at least an adopted one) win the Rhino. Congratulations to David Forrest, who overcame the very bad golf and distractions of playing in the first group, to shoot a rock-solid 81 and capture his first Rhino crown. Dave has long been a strong contender to claim a Rhino championship, but was never quite able to break through. Until now. Like the monkey lifted from UVA's back in basketball, whatever monkey there may have been on Dave's golfing back is gone. And it couldn't have happened to a nicer guy. Dave has always understood and embraced what the Rhino is all about: friendly competition, traditions, and love. He has been a gracious and enthusiastic participant in the event since Matt first invited him over 20 years ago, and he has been one of the pillars keeping the event strong since we lost Matt. Indeed, Dave took on a project in 2004 that those of us closest to Matt could never have found the strength to handle at that time. He went through countless hours of old Rhino videos, interviewed numerous Rhino participants, and put together a heartwarming yet wickedly funny DVD that truly captures the spirit of the Rhino. I and so many others have always been grateful for that enormous act of kindness and creativity, and it's just one of many reasons why it's so perfect that David is our Rhino champion this year. Congratulations to a most-deserving champion!


The Rhino 2019 Group at the First Tee at 11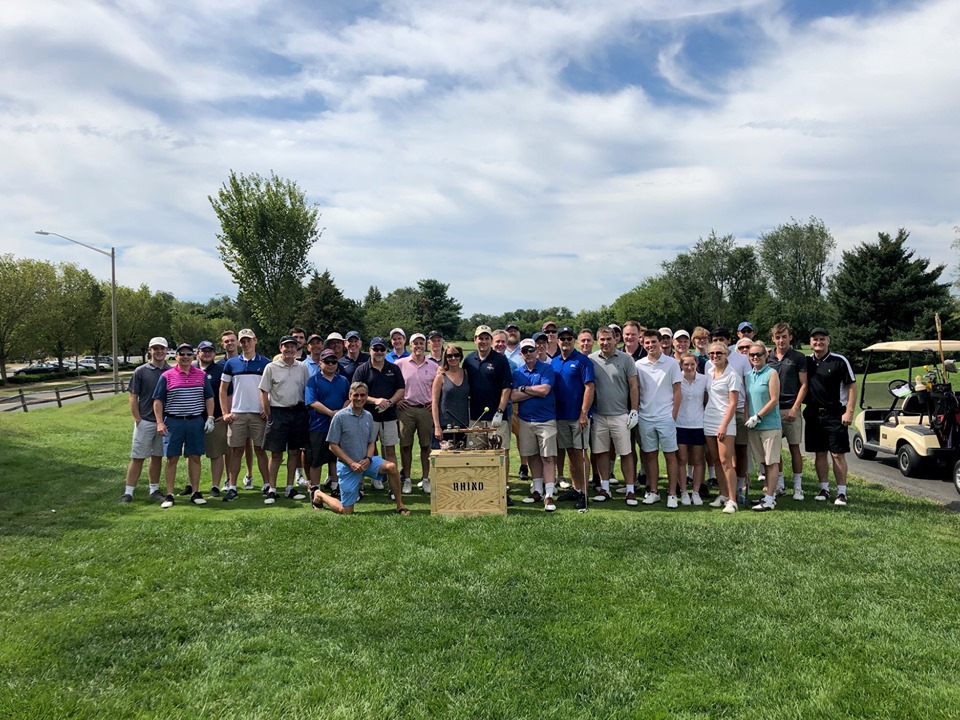 Awards, statistics and photos from past years are posted. We hope to post video content soon as well.

As in prior years we were able to make a $1,200 (even with higher than normal expenses this year) donation in Matt's honor to the Adrienne Wilson Liver Cancer Association. Over the years, we have now contributed $21,200 to this worthy organization to assist in the battle against liver cancer. Those donations are funded exclusively by the $100 entry fee for players and voluntary gifts from non-golfers. Even if you can't join us this year, please consider donating directly here: www.bluefaery.org. Cathy is now serving as a community ambassador for Blue Faery's Liver Cancer Community hosted by Health Unlocked.
---
Email Charlie Scarborough at - Charlie@RhinoInvitational.com
Email Cathy Anderson at - Cathy@RhinoInvitational.com
Email Chris Anderson at - Chris@RhinoInvitational.com
Email Connor Anderson at - Connor@RhinoInvitational.com
Email Scott Anderson at - Scott@RhinoInvitational.com
This page was last updated on 9/16/19