Home
About the Rhino
Photo Album
Statistics
A Brief History of the Rhino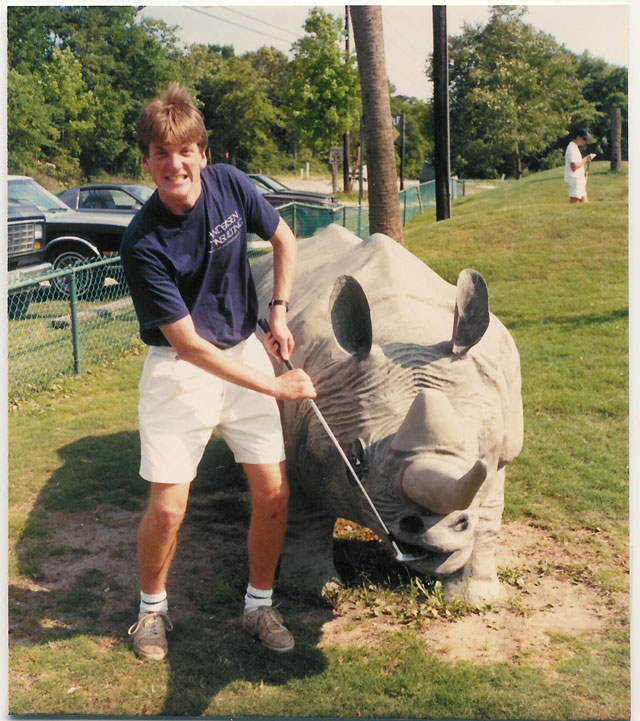 The Rhino Invitational Golf Tournament was founded in 1985 by Matt "Rhino" Anderson. Every year since then, Matt has invited friends from near and far to come together to play golf in "his" tournament, and the event has grown steadily as Matt's own circle of friends widened. Although there are no golfing skill requirements for receiving an invitation to participate in the Rhino (in fact, too much skill is generally frowned upon), it has always been an honor to be selected to compete because it meant Matt counted you among his friends. Thus, for many, the Rhino has become a fixture on the June calendar every bit as important as a major holiday.
On November 10, 2003, Matt passed away after a six-month battle with liver cancer. Before he was taken from us, however, Matt made clear that it was important to him for the Rhino Invitational to continue. That should come as no surprise to anyone who knew him. Matt loved competition in virtually any form, and it brought him great joy to assemble his friends every year to compete on the golf course. Indeed, Matt once remarked that hosting the Rhino was like having a wedding every year: a great opportunity to bring friends from different parts of your life together for a big party. In that spirit, we will continue to gather each year for the Rhino - because Matt wanted it that way.
To understand why it's important for the Rhino to continue, one need only talk to any of the veterans of prior tournaments. They can all provide extensive oral histories, but many of these accounts are conflicting, exaggerated, or fuzzy from the passage of too much time and the drinking of too much beer. Thus, as we approach Rhino XX, it seems appropriate to attempt to commit at least some of those memories to writing. Although what follows is by no means comprehensive -- and it may contain obscure or completely made-up events -- it is an attempt to capture the spirit of the Rhino as it has grown and flourished over the years.
The Early Years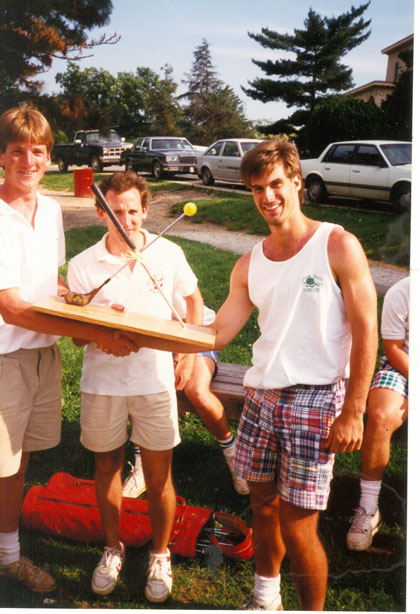 If the Masters is "A Tradition Unlike Any Other," then the Rhino Invitational is "A Cinderella Story," coming out of nowhere (like Bill Murray in "Caddyshack") to become a major golfing event. Upon graduating from Towson High School in 1985, Matt "Rhino" Anderson wanted to put his unique stamp on the game of golf. After the collapse of his fledgling golf course design business (first and only venture: "The Links At Exit 47, just off I-695"), and his foiled efforts to qualify for the PGA Tour, Matt hatched an audacious plan to start his own golf tournament. After all, if the Golden Bear could do it, why not the Rhino?

That first year Matt dragged 10 of his high school buddies to the sun-kissed and as-yet relatively crime-free Clifton Park Golf Course in downtown Baltimore, and a tradition was born. Although records from those early years are spotty at best, most reports suggest that Todd Berger was the first Rhino Champion. Notably, this also marked the first and only year that Todd managed to complete a Rhino without breaking at least one golf club.


The Rhino Expands

For the next several years, the Rhino remained a relatively small affair with a field of no more than 12 of Matt's high school friends. But upon graduating from the University of Virginia in 1989, Matt managed to convince a group of his college friends (including many that had never before played golf in their lives) that it would be a great idea to drive up to Baltimore for the weekend, drink enormous quantities of beer, place wagers on a variety of esoteric golfing-related events set up by wily Maryland bookies (a.k.a., Matt's high school "friends"), and pass out on the floor of Jon Sack's parents' house. It was the first of many scams designed to transfer money from neophyte UVA golfers to Matt's Maryland friends, who were clearly the only ones that had any legitimate chance to win the golf tournament. But it was also remarkably fun, and it forged the bonds for many new and lasting friendships between folks that might otherwise never have met.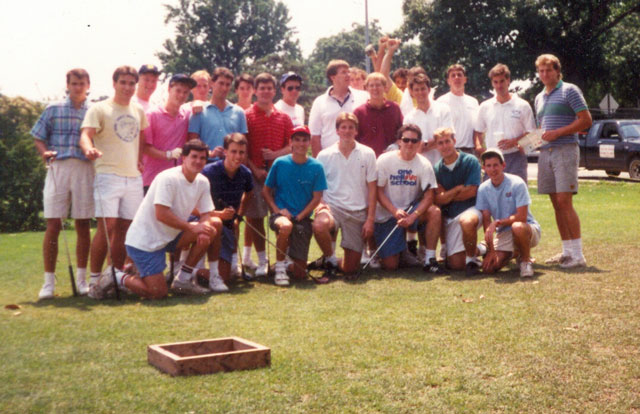 With the influx of Matt's UVA and Andersen Consulting friends, the Rhino field grew steadily during the first half of the 1990s, from 18 competitors in 1989 to approximately 50 in 1994 and 1995. With greater numbers came a brief period of unofficial Delta sponsorship and one year even a blimp circling Clifton Park (although it later turned out that the blimp was part of a manhunt rather than TV coverage for the Rhino). The total prize purse for the tournament sky-rocketed, but the overall level of golf remained comfortably mediocre.
These were heady times marked by the zany antics of kids just out of college who were not yet encumbered by spouses, children, or any well-developed sense of responsibility. Put another way, this was a great time to act like an idiot. And so we did. This was the era of late-night "Caddyshack" viewings, "Pants-Down Newcomb" (choose your undergarments for Rhinos carefully!), live performances by "Side-Door Einstein," partially-clothed runs through the neighborhood carrying a torch, and numerous efforts to jump-start heavy construction equipment at Oldfields. In between all the partying, we also played some golf.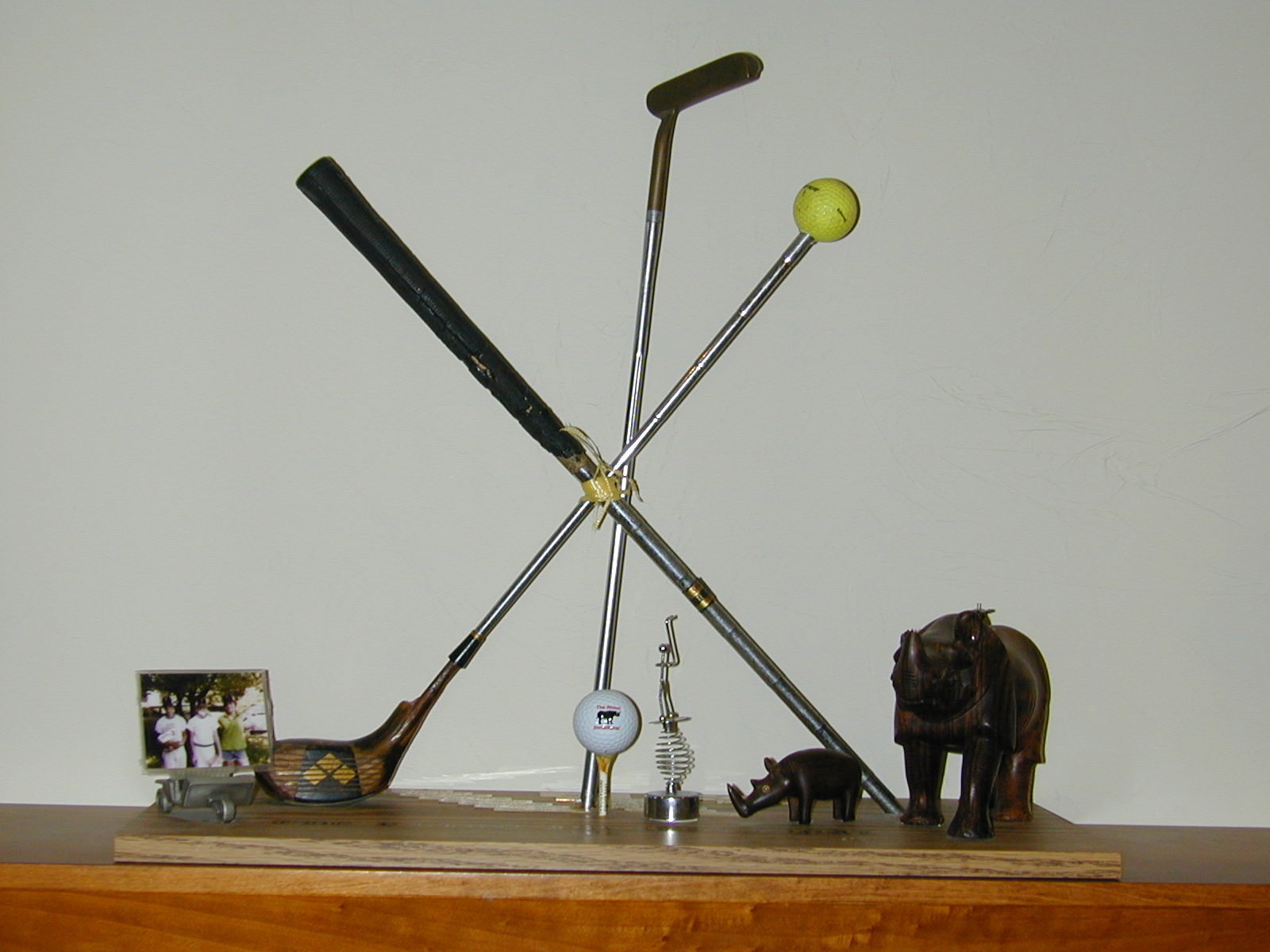 Rhino Traditions

Although the Rhino provided a forum for all manner of bacchanalian frolicking in the early 1990s, a number of more serious traditions also were established during this period. Among other things, the tournament acquired an official trophy (pictured above) after one errant shot too many put an end to the useful life of an anonymous golfer's three-wood. The "broken club" was first presented to a tournament winner in 1991, and over time a tradition evolved for each subsequent champion to add one distinctive element to the trophy before returning it for the next year's event. Thus, the Broken Club Trophy is now more eclectic and personalized than a Stanley Cup or Lombardi Trophy could ever hope to be. It is also (arguably) more prestigious -- at least in some circles.

Because only a handful of people actually had a legitimate shot at winning the Rhino in any given year (see above regarding Maryland golf scams), Matt wisely created a number of goofy awards based on unique things that happened each year or his overall perception that someone really wanted (or needed) an award. These ranged from perennial favorites like "Best Dressed," "Craziest Shot," and the "Boobie Prize," to one-hit wonders like "Loudest Group" (1994), "In the Bush on 18, #1 and #2 (1995), "Best Tan Line" (1996), "Farthest Traveler" (1997), "Water Bottle Award" (1998), and "Lowest Score By A Mother" (1999).

Indeed, in 1995, with the demand for awards ever increasing, Matt added three levels of Rhino "flights," awarding prizes not only for the lowest scores overall but also for the lowest score from a golfer who had never previously broken 90 ("Brown Rhino") and for the lowest score from a golfer who had never previously broken 100 ("Rhino Virus"). Many years of litigation ensued over exactly who could qualify for which category, and the flights are now "re-indexed" every year based on a complicated formula linked to prior Rhino scores, interest rates, and current "reality TV" programs.

In addition to the "official" awards, a tradition of low-stakes but high-intensity wagering also developed at the Rhino. At nearly every pre-Rhino party, "the House" (usually some combination of Mike Curtis, Jon Sack, and Bob Weir) gives odds on each participant's chances of winning. Small differences in the odds posted for individuals that perceive themselves to be of "equal" golfing skill levels invariably provoke all manner of allegations, counter-charges, and side-bets. Indeed, the real wagering action at the Rhino is always self-created, ranging from the classic "Rudy vs. Todd" grudge match to more capricious categories like most three-putts or most trees hit during the round.

The tradition of Rhino wagering on Virginia vs. Maryland rivalries has also spawned a series of satellite events. Most notably, for the past twelve years, Rhino participants from Virginia and Maryland have squared off in a Ryder Cup-style match play event known (cleverly) as the Potomac Cup. And, to mirror the PGA Tour tradition of holding four "majors" every year, these two events led inevitably to the creation of the Fall Classic and the Ocean City Classic (with its unorthodox and egalitarian bowling component). While participation in these events is never quite as high as the Rhino or the Potomac Cup -- because some spouses apparently believe that these venerable tournaments were created solely to provide an excuse for long guys' weekends away -- all of these traditions started with the Rhino.

The Broken Club Trophy (BCT), presented each year to the winner of the Rhino Invitational Golf Tournament, is arguably the greatest trophy in all of sports. It all depends on how hard you want to argue and how you define sports. But one thing is clear: the BCT has a long and storied history, and it's time to tell that story. In the early years of the Rhino, when the field hovered around ten and the entry fee was $2-3, there was no trophy. The winner of the Rhino received a firm handshake from the Rhino, about $20 in prize money, and coveted bragging rights among a small but ultra-competitive group of Towson High School graduates. That all changed in 1989, however, when Bill Fields cobbled together a broken club that he received for winning in 1988 and started a wonderful new Rhino tradition. Below, in his own words, is Bill's explanation of how the BCT was created:

After I won in '88 (shot an 82 (record low round for the Rhino for several years) in which I was 1-under after 5 (I birdied 2 and 3, E was driving our cart around telling everyone about it, which jinxed me) and then I took a 6 on the 80-yard no. 6 after hitting a soft-top Cadillac off the tee and playing the hole speed-golf style out of fear), to best the other 10 competitors (and the walk-on who we were paired up with (his name was Jeff, Rhino gave me the score cards after the round, which I still have, of course - I am listed as "Watson" (Tom and I have the same birthday), Eric as "Fuzzy" and Mike as "Trevino")), Rhino presented me with a bent wooden driver as a trophy and about $25 (which I lost playing cards that night in my parent's basement). I don't remember where the club came from but it was probably E's.

I then put the club in a closet. A year later, I pulled the club out of the closet and it was in 2 pieces. There was only a few days until the Rhino, and I wanted to fix it up somehow. So, I went to a hardware store and found a shelf that was on clearance and some rub-on letters. I took them home and screwed the club onto the shelf so the two pieces crossed. The broken part of the club was sharp so I took one of my Fast Flites (in honor of the ones I used in my winning round), drilled a hole in it and stuck in on the end of the club. I used the letters to add "Rhino Invitational 1985." And that was the start of the trophy.

Since these humble beginnings, the BCT has morphed into an eclectic and powerful symbol of friendship and an enduring reminder of the Rhino himself. Matt presented the BCT to John Sheehan for his win in 1989, and Johnno added a picture of himself, Matt, and Eric from their childhood days. With that simple act, a tradition was born, and since that time each Rhino champion has had the opportunity to add something to the trophy in keeping with the spirit of the Rhino. As a result, the BCT is now a colorful jumble of Rhino paraphernalia and other interesting items, and we thought it was time to compile who added what and when. Although not every piece of the trophy is accounted for (see blanks below), and some questionable items may have "accidentally" fallen off over time, below is a guide to the BCT listed in chronological order, with an explanation (where possible) of the rationale for the addition from the champion who added the item.

1988 Bill Fields – BCT created; see story above

1989 John Sheehan – Photo (now on golf cart) with Rhino and Eric.

1990 Dave Karczeski – Not clear; does anyone still keep in touch with that guy?

1991 Jon Sack – Big wooden Rhino on bottom right, for obvious reasons

1992 Jon Sack – Earring on big wooden Rhino, because when you win two years in a row you can add whatever the heck you want

1993 Bill Fields/James Assey – First and only shared championship leads to inertia on adding anything new to the trophy

1994 John "Auggie" Reddan – Birdies on back of big wooden Rhino, because Aug had lots of birdies that year

1995 Jon Sack – Small rubber Rhino which used to sit on tee; that was lost but replaced with celebratory Rhino ball now on the tee

1996 Rich Armstrong – Not clear; anyone still see Rich these days?

1997 Bob Weir – Small wooden Rhino next to big one, for obvious reasons

1998 Rich Armstrong – Not clear; did Rich ever add anything?

1999 John Sheehan – Lighting under shelf (but there was no second level until 2011)

2000 Bob Weir -- Golf cart to hold photo of Rhino and others added in 1989

2001 Kevin Cone – Another gap from another winner barely anyone knew

2002 Scott Nengel – Wobbly, silver golfer on bottom level

2003 John Sheehan – Not clear; Johnno?

2004 Gus Kearny – Auggie's hospital admission bracelet to commemorate gruesome foot injury he suffered at Eric's party the year before

2005 Gus Kearny – AOL hot wheels car (later "fell off" for lack of Rhino relevance)

2006 Bruce Palmieri – "Thanks Matt" plaque, to celebrate the Rhino himself

2007 Gus Kearny – Axe-wielding, armor clad Rhino, added by Charlie after seeing it among his kids' toys and purchasing it from them because it was so cool

2008 Jon Sack – Clifton and Herndon plaques, celebrating Rhinos past and present

2009 Todd Berger – Silver "25" celebrating 25 years of Rhino fun

2010 Bill Fields – Towson High School medallion, celebrating unquestioned dominance of Towson alumni in Rhino field

2011 Mason Hecker – New top shelf to trophy, and Pebble Beach ball marker in memory of Fred Hecker, Mason's dad, who played in the 1996 Senior U.S. Open and passed away from prostate cancer in 2006

2012 John Sheehan – "30" on top shelf, to commemorate 30 years of the Rhino

2013 Bruce Palmieri – "Thank You Charlie" plaque, to commemorate ten years of running the Rhino

2014 John Sheehan – Bluejay on "30," because it is the Johns Hopkins mascot and after winning five times it's hard to think of new things to add

2015 Todd Berger – Rhino figure on top shelf, with flash drive attached for storing Rhino photos and memories

2016 Mike Puletti -- ?? (probably some gaudy VT item just to emphasize that no one from UVA has ever won the Rhino; we'll just have to see)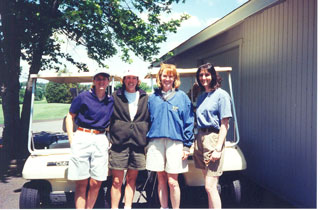 Women At The Rhino
The Rhino has also faced its share of challenging social issues. Like the Masters (and UVA, until 1970), the Rhino was an all-male event in its first eight years -- not because of any intentionally exclusionary gender policy but simply because no woman had ever expressed any interest in playing (a fact most women attributed to their superior intelligence). All that changed in 1993, however, with the arrival of a diminutive but long-hitting former member of the Duke golf team, Ann Hall. After attending her first Rhino as a girlfriend/spectator and repeatedly thumping many long-time male Rhino participants in various golf outings throughout the D.C. area, Ann made clear that she wanted to play in 1993. And so the Rhino found itself at an important crossroads.
Despite small-scale rioting and the threat of a massive boycott by some of the more Neanderthal male Rhino participants, the Rhino quickly did the right thing, extending an invitation to Ann to play on the same terms as the men. As Matt explained later, the choice was easy because Ann wasn't looking for any special favors to compete; she just wanted to play. Thus, over a decade before the controversy between Martha Burk and "Hootie" Johnson over the admission of women to Augusta National, and many years before Annika Sorrenstam made history playing in a PGA Tour event, the Rhino was paving the way for social change.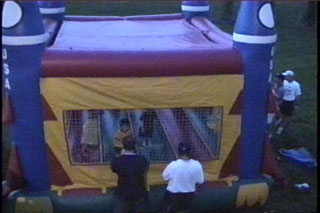 The Move To Herndon
Although the Rhino was contested for its first twelve years at Clifton Park in Baltimore, it gradually became apparent that the tournament needed to move elsewhere. Despite all the great memories of balls hit into the front porches of row houses, shots played from grave markers in an adjoining cemetery, and marauding teenagers on bicycles trying to steal people's clubs, Clifton no longer felt like home. Thus, in 1997, after purchasing a house in Springfield with his lovely wife Cathy, Matt made the decision to move the tournament to Herndon Centennial Golf Course - giving it new Virginia roots near his new home.
The move to Herndon coincided with a general mellowing of the Rhino as its participants aged and started to have children. Although all the collateral Rhino activities continued -- the Friday "Pro-Am" round, the pre-Rhino party, and even a new Thursday Rhino poker night - these events no longer regularly concluded with some form of public nakedness or a long drunken night spent on the floor of Jon Sack's parents' house. In this latest era, Saturday afternoon moon bounces have replaced Pants-Down Newcomb as the signature of the Rhino.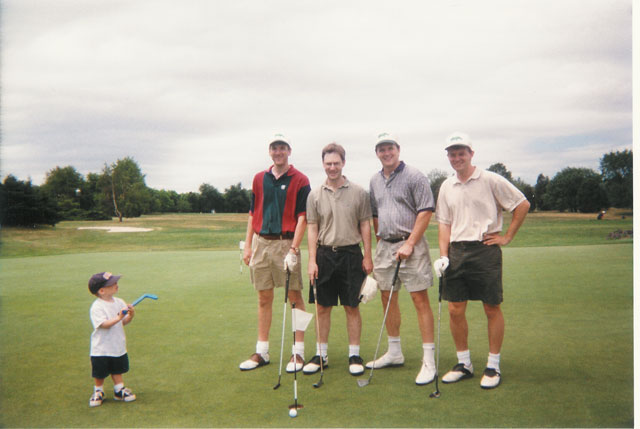 A Look Ahead To The First Tee
Despite many changes throughout the years, one thing about the Rhino has remained constant: Matt always hit the first tee ball. In keeping with the Masters tradition of past champions hitting the opening tee shots, we have gathered every year to watch the Rhino start us on our way. Starting in 2004, however, we are going to have to carry on by ourselves.
No one can ever replace the Rhino, and we're not even going to try. The first group will be a threesome for now. But it doesn't have to stay that way. Matt always dreamed of the day when the Rhino would become a Father/Son (Mother/Daughter) event, and his boys could play along with him. When they are ready, one of the Anderson boys will hit that first tee ball and make this tournament his own. That will make the Rhino proud.