Home
About the Rhino
Photo Album
Statistics
Welcome to the official Rhino Invitational Golf Tournament Website!!

Rhino XXXVIII is planned for Saturday, August 13, 2022 with tee times starting at 11 a.m. at Herndon Centennial Golf Course.

Thanks to everyone who participated in the 37th Annual Rhino Invitational Golf Tournament or sent good wishes from near or far. We dodged some serious storms on Saturday, and 57 people ultimately teed it up. Thanks also to the many folks who couldn't make it this year but nevertheless contributed to the cause. Because of your generosity we will be making a $2200 donation to the Adrienne Wilson Liver Cancer Association this year. That brings the total amount the Rhino has contributed over the years to the fight against liver cancer to $25,700. If anyone else would like to donate to that worthy cause, you can do so directly here: Adrienne Wilson Liver Cancer Association.

Congratulations also to our new Rhino champion, Curtis Wilson, who shot an outstanding 79 on Saturday to hold off a hard-charging Bruce Hemstreet, who shot 81 (and played the back 9 in just two over par!). Curtis is a relative newcomer to the Rhino, but has played in the last several events. Most people, including me, know him primarily as a soccer guy, but he clearly has some golfing skills as well. Curtis is not only a fellow soccer parent (his daughter played on the same team as Phoebe for many years) but also an accomplished soccer coach, including a critical year as coach of Peter's travel team when they were younger. Although Curtis was unable to stay for the awards ceremony this year, he told me before departing that the Rhino "has taken on a great deal more meaning for him this year" as both his father and a close friend are currently battling liver cancer. So while many folks may not know Curtis, he's a worthy champion who understands and appreciates this event on many levels. Now he just needs to convince his wife Gayle to make room in their house for the Broken Club Trophy.

As always, scores and awards have been posted on the Statistics page and photos have been updated. Please forward any additional photos you would like to share to Cathy at andersoncathl@yahoo.com and/or share them with Charlie at rhino@ourskylight.com, which will make them pop up on the cool electronic picture frame David Forrest gave Charlie several years ago as a repository for Rhino memories.

Thanks to everyone for supporting this event throughout the years. This year had a truly multi-generational feel, with four second-generation Rhinos joining us for poker on Thursday and six different parent-child combinations competing in the Rhino itself. Moreover, all three of Matt's sons were able to join us for golf this year, which was a real treat. Even though none of them really play golf, Chris, Connor, and Scott have been such good sports about this event over the years – recognizing that the important thing is not the golf but rather about maintaining and strengthening connections with friends and family. Your dad meant so much to so many of us, and it feels good to have a time and place every year to remember and appreciate that.

Thanks to everyone for helping to keep the spirit of the Rhino very much alive.

By the way, we are serious about Rhino 2024 (the 40th anniversary) taking place in St. Andrews, Scotland, on the Old Course. If you're interested, let Charlie and Jim Maloney know. We need to start planning later this year.


The Rhino 2021 Group at the First Tee at 11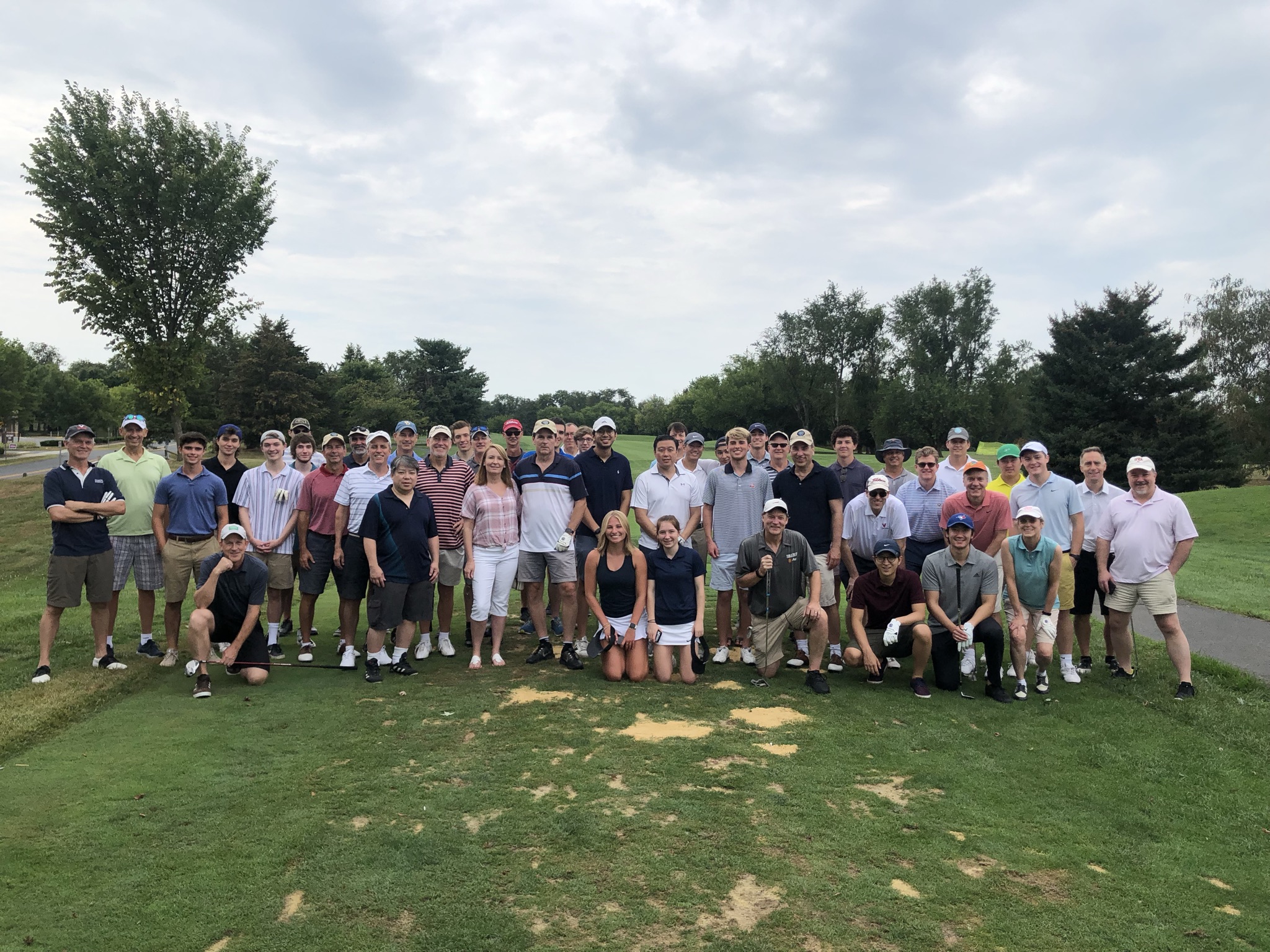 ---
Email Charlie Scarborough at - Charlie@RhinoInvitational.com
Email Cathy Anderson at - Cathy@RhinoInvitational.com
Email Chris Anderson at - Chris@RhinoInvitational.com
Email Connor Anderson at - Connor@RhinoInvitational.com
Email Scott Anderson at - Scott@RhinoInvitational.com
This page was last updated on 8/20/21